Welcome to St. Armands Circle Shopping and Restaurant Guide
St. Armands Circle is an island shopping paradise located in the Gulf of Mexico just west of Sarasota on Florida's beautiful Gulf Coast.
An easy drive across two bridges and a scenic causeway from Sarasota, St. Armands is home to over one hundred upscale shops, stores and restaurants. Located in a Florida tropical island paradise, the circle of St. Armands is lined with fine shops and gourmet restaurants.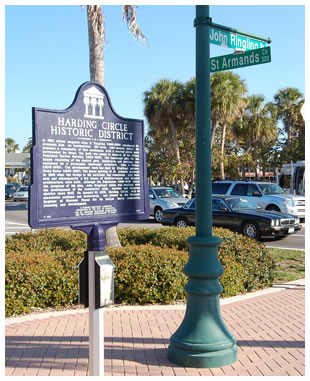 Famed as a shopping destination with a continental flavor, St. Armands blends the charm and romance of 'Old Florida" with fashions and accessories that today's shoppers demand. Surrounding a Lush tropical park, St. Armands Circle is home to welcoming courtyards, patios, classic statuary and Florida modern architectural design which combine to create a unique atmosphere that can only be found on this Florida Gulf Coast Island. Whether you sit back and enjoy our topical paradise in one the many restaurants that make St. Armands home or casually explore the shops and stores that have made St. Armands famous, you will discover why there is only one St. Armands.
St. Armands is not just about shopping and dining, St, Armands is also home to variety of special events during the coarse of the year. Mostly held in St. Armands Circle centerpiece park, exotic car shows, art shows, craft fairs and many other special events combine with the shopping and dining to give St. Armands a special appeal to virtually everyone.
If upscale shopping, dining and special events are not enough to give you cause to visit St. Armands, then the icing on the cake must be the white sugary sand beaches of Lido Key, the island on which St. Armands makes its home. The warm waters of the Gulf of Mexico combined with Florida's famous white sandy beaches make Lido Key and St. Armands the perfect Florida vacation destination.
Planning on vacationing in the St. Armands/Lido Key area? How about a Lido Key Vacation Rental? for a complete listing if area Vacation Rentals just Click Here! Remember, VRBO has no booking fees and is free for travelers.
We have put together an easy to use reference to help you plan your next St. Armands experience listing where to stay, where to shop, where to eat, what to do and more, Please feel free to browse through our site and remember, "Don't' forget the sunscreen."
The cheapest flights are found 54 days out (with one big caveat)
In CheapAir.com's 2017 Annual Airfare Study, we crunched 921 million air fares, and found that the lowest fare for a given trip changed on average 71 times. That's about once every 4½ days! And with each change the lowest price went up or down by an average of $33. So, clearly, it matters a huge deal when you choose to pull the trigger on your flight purchase.
Read more
For more information about Lido Key visit the Lido Key Vacation and Travel Guide.

St. Armands News
Taste of St. Armands
October 7, 2017 5:00 pm – 8:30 pm
Taste of St. Armands features dishes from over a dozen restaurants located on St. Armand's Circle. There will live entertainment and beverages. Tickets are $55 in advance and $65 the day of the event. Located at St. Armand's Circle Park.
32nd Annual Sun Coast Jaguar Concours d'Elegance
Saturday October 14th 2017
Find out more
St. Armands Circle Arts Festival 2017
November 11, 2017 9:00 am – November 12, 2017 5:00 pm
Go to the St. Armands Circle News and Events Page for more information
*Have an event you would like listed at no charge? Email us at service@tibeachbums.com

Not Listed? Contact service@tibeachbums.com to find out how to list your business on our sites.